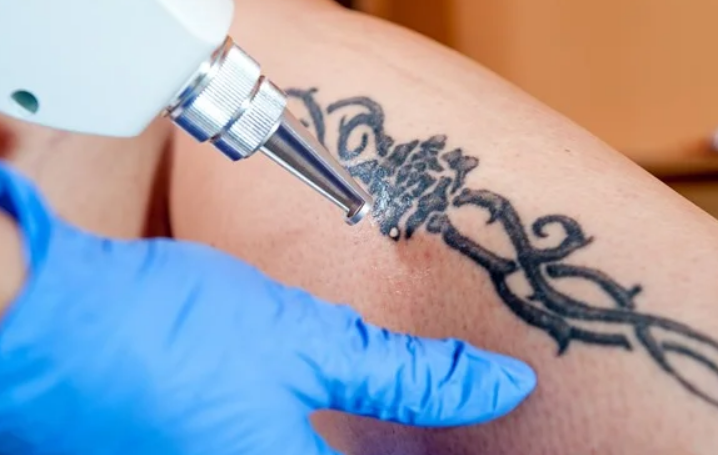 Tattoo Removal Treatment in Chandigarh

Did you get a tattoo in your teenage and now are worried about it? Do you need to remove it but aren't sure what is the best means for doing so? Avail the Tattoo removal services from Dr. Harmandeep Sidhu and get rid of your tension.
Have you been considering tattoos to be permanent? This is what we have always thought. But the improvement in technology has provided solutions for all the problems, including the permanent tattoos
So, if you want to get rid of any tattoo on your body, you can get the tattoo removal treatment, and your skin will be back to normal.
Reasons for Tattoo Removal
Permanent tattoos are often made through piercing managed through small needles and permanent ink. This ink is penetrated to the deepest skin layers giving your tattoos a permanent nature.
Here are a few reasons you might want to get rid of your permanent tattoos.
Lack of interest
You might no longer be interested in a particular tattoo because of changes in your situation.
Change of religion or beliefs
A few religions do not allow tattoos on the human body. So, you can get tattoo removal treatment in Chandigarh and change your beliefs as required.
Broken Relationships
If your tattoos are the initials of the partner you loved, you might not want to stick with them if the relationship breaks at some point in life.
Risks Undergoing Tattoo Removal
The risks involved in the treatment are moderate. But you can minimize them by choosing a tattoo removal specialist in Chandigarh. Here are a few risks in treatment, you might have to go through:
Skin Scarring
Scarring of skin on the areas of treatment is common. You might also feel redness and soreness in the area.
Pain
The tattoo removal treatment comes with a considerable degree of pain, so you must be ready to bear it. The penetration of strong laser beams deep into the skin causes this pain.
The skin needs healing since in this treatment; the laser beam damages the hair follicle by reaching it so that more hair is not produced. This damage can also result in slight irritation or redness of the skin.
High Cost
Another risk you can associate with this treatment is its high cost and multiple sessions. The intense tattoo will require more sessions and thus will cost you more.
Laser technology is the main procedure at the back of tattoo removal treatment. The laser beams are directed at the tattoo area. It makes the pigment vaporize. So, no matter how deep or permanent your tattoo is, it can be removed in a few sessions of this specialized laser treatment procedure.
The intensity and duration of the tattoo removal treatment in Chandigarh will depend upon the nature and size of your tattoo.
The bigger tattoo you want to remove, the more time and intensity it will need.
Here are the reasons you should choose Dr. Harmandeep Sidhu:
She is proficient and can manage tattoo removal treatment efficiently
You can find her for tattoo removal treatment in Chandigarh
She uses state-of-the-art technology to treat her patients
Her treatment is affordable, letting everyone enjoy fully nourished skin.
One of the benefits associated with carbon peel is that it results in no major side effects. Moreover, people who undergo this procedure can immediately return to their normal daily routine as soon as it is done. However, regular skin care routine is mandatory to maintain the glow of the skin.